The City of Grants Pass is well known for its mild climate. Average annual maximum temperature is 68 degrees, with an annual average minimum temperature of 50 degrees. The areas average annual precipitation is 29.5 inches, and Snowfall is minimal – 2.3 inches per year. The City of Grants Pass is located in the "sun belt" of Southern Oregon's Rogue Valley. The ideal Grants Pass climate provides an average rainfall of under 30 inches annually, and the residents boastfully enjoy the gentle evening breeze during the spring, summer, and fall months.  The Tourist visitors can plan on warm, sunny days, and cool dry evenings from mid-May through September, followed by beautiful evening skylines during the Indian summer of October.
Downtown Grants Pass has earned the distinction of a National Historic District Due to their historic buildings and preserved homes. The main streets of downtown Grants Pass flourish with antique shops, local art displays, and collectible shops.


The City of Grants Pass also features the mighty Rogue River flowing through town passing under the 6th & 7th street bridges near Riverside Park. The City of Grants Pass is often referred to the whitewater rafting capital of Oregon. Tourists and Visitors vacation to this beautiful Southern Oregon destination to enjoy a trip down the mighty Rogue River with professional outfitters, and rafting adventures guides.
Featured Grants Pass, Oregon Attractions:
Grants Pass is nationally known for their Hellgate JetBoat Excursions. excitement, scenery and history is what you'll find on this tour of the mighty Rogue River.  There are five excursions packages to choose from. You can choose between a 2-hour scenic  tour,  a 4-hour Champagne Brunch trip, a 3-hour Lunch cruise, a 4-hour Dinner adventure, or a 5-hour Whitewater Adventure down the mighty Rogue River.
Each year during the last week of May in the City of Grants Pass you can enjoy the four day, world famous, Boatnik festival at Riverside Park. The annual Boatnik event opens with a colorful down town parade, and wraps up with a Nationally recognized hydro boat race down the mighty Rogue River.
Grants Pass is also host to Southern Oregon's largest outdoor Growers Market. Locals and our area visitors enjoy fresh locally grown fruits & vegetable, as well as locally make art and craft items. The Growers Market is open each year from early spring through late fall. The City of Grants Pass is located in Southern Oregon's Josephine County which feature an extensive system of parks, many of which are located along the Rogue River. Most of Josephine County's park system locations offer overnight accommodations, with RV hook ups for short and long term stays.
If you love art be sure to visit the Grants Pass Museum of Art.  Located in the heart of Grants Pass on historic "G" Street. The Museum displays classic and contemporary art, as well as work from our local artist's. The Grants Pass museum of Art enriches our local culture by offering art experiences that stimulate the senses and intrigue the intellect.
The Wiseman Gallery features Aesthetic, cultural, and social works. Exhibits range from works by local artists to national artists. A variety of styles are presented to inspire and educate the viewer. Annual exhibits include: student and faculty shows, and the National Women's History Month juried exhibit, "Celebrate Northwest Women". The gallery also coordinates Black, White & the Blues, an annual art auction and dance held in cooperation with the Grants Pass Museum of Art to raise 'art awareness' funds for both art exhibitors.
If it's the performing arts that you enjoy, The City of Grants Pass offers a diverse selection of performing art theatres from treasured Musicals, comedies, and remembered Documentaries & with exploration of Modern performances.  Reminiscing Broadway style shows, invigorating community youth productions, an so much more. Musical and cultural programs are presented locally at the Rogue Theatre, Barnstormers Theater, Connect the Dots Theatre, Stardust Repertory Theatre, and the Rogue Music Theatre.
Art Along the Rogue is an annual Fall event in the City of Grants Pass. This cultural event introduces a art and music festival, nationally, and locally known pastel street artists, along with local and regional musical entertainers.
If your a classic car lover you will not want to miss the Back to the 50's Car Show. This is an annual summer event and is a puddle skirt blast from the past This summer celebration includes a downtown 50's car cruise, a dance, live music and so much more for the entire family to enjoy.
Concerts in the Park is a great setting opportunity for a family picnic This event provides a unique variety of local music performances which are provided free to the public. During the show you can enjoy some great grub from local food vendors, beverages along with other snack treats for the kids. Concerts in the park is a summer event, running from July through August, and is located in the Riverside park. Performances take place every Tuesday evening starting at 6:30pm.
First Friday Art Night is a blast. Downtown Grants Pass comes alive with music and art. Enjoy an evening stroll through downtowns Historic "G" and 6th Street. Be prepared to enjoy viewing a variety of local talents in the downtown art Galleries, shops, and Museum. The First Friday events run on the first Friday night of each month starting a 6pm, with the exception of the month of January. There are various shops, galleries and restaurants open late displaying local art and musical talent.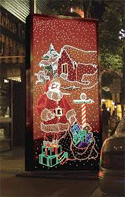 During the Holidays enjoy the annual Magical Musical Holiday Murals. These holiday murals light up Grants Pass along both 6th and 7th Street from mid November to December 31st. Enjoy 20 murals that decorate downtown, each 5ft x 10ft and uniquely designed as a giant holiday card. Each Magical Musical Holiday Mural weighing approximately 400 pounds, feature its own sound system playing its own holiday tune. Take a holiday stroll through downtown Grants Pass during the holiday season and enjoy the Magical Musical Holiday Murals. It's a real treat.
The City of Grants Pass offers some of Southern Oregon's best Medical Services.  The Asante Three Rivers Medical Center features a nationally recognized, full service  medical facility.  Three Rivers offers an array of services not usually found outside of metropolitan areas. Included in the hospital's services are a homelike birthing center, the area's only maternity service and American Medical Response, the hospital' critical care ambulance. Medical specialties currently represented on the medical staff of the hospital include: allergy, dentistry, dermatology, emergency medicine, family and general practice, Hospice Care, home health, infectious diseases, internal medicine, neurology, obstetrics/gynecology, occupational health, ophthalmology, oral/maxillofacial surgery, orthopedic surgery, osteopathy, otolaryngology, (ear, nose and throat), pathology, pediatrics, psychiatry, radiology, surgery (colon-rectal, general, thoracic, and vascular) and urology.